During the pandemic we had an abrupt change to seasonality in housing data. As families once were tightly constrained by school and work location and schedules, if a home didn't sell by the end of summer, you would have missed your window.
That means you'd start cutting the price on your listing to make sure it moved before the holidays. Then come Thanksgiving and Christmas, the market slowed, properties get pulled in order to be relisted in January and February.
Last year that all changed. When families were decoupled from school and work locations, suddenly you can buy and move in December. Inventory fell and sellers realized they had far greater than expected demand and could keep their prices up.

In a lot of American life we're asking ourselves how permanent are these remote changes? I spoke with a highly successful tech executive friend this week who is looking for her next gig and is only talking to firms who are 100% remote. She's not alone.
So if we have these permanent changes to how people live and work, do our normal seasonal patterns of buying and selling real estate disappear? Last year they evaporated. This year seasonality is back somewhat, but in many ways seasonality may be gone forever.
---
Watch Video: Is Real Estate Seasonality a Thing of the Past?

Here's what the real estate market is telling us this week: There are 375,000 single family homes on the market at the moment. That's down 2.5% from last week. It does not have the full effect of the Thanksgiving holiday baked in yet, so next week will be down some more.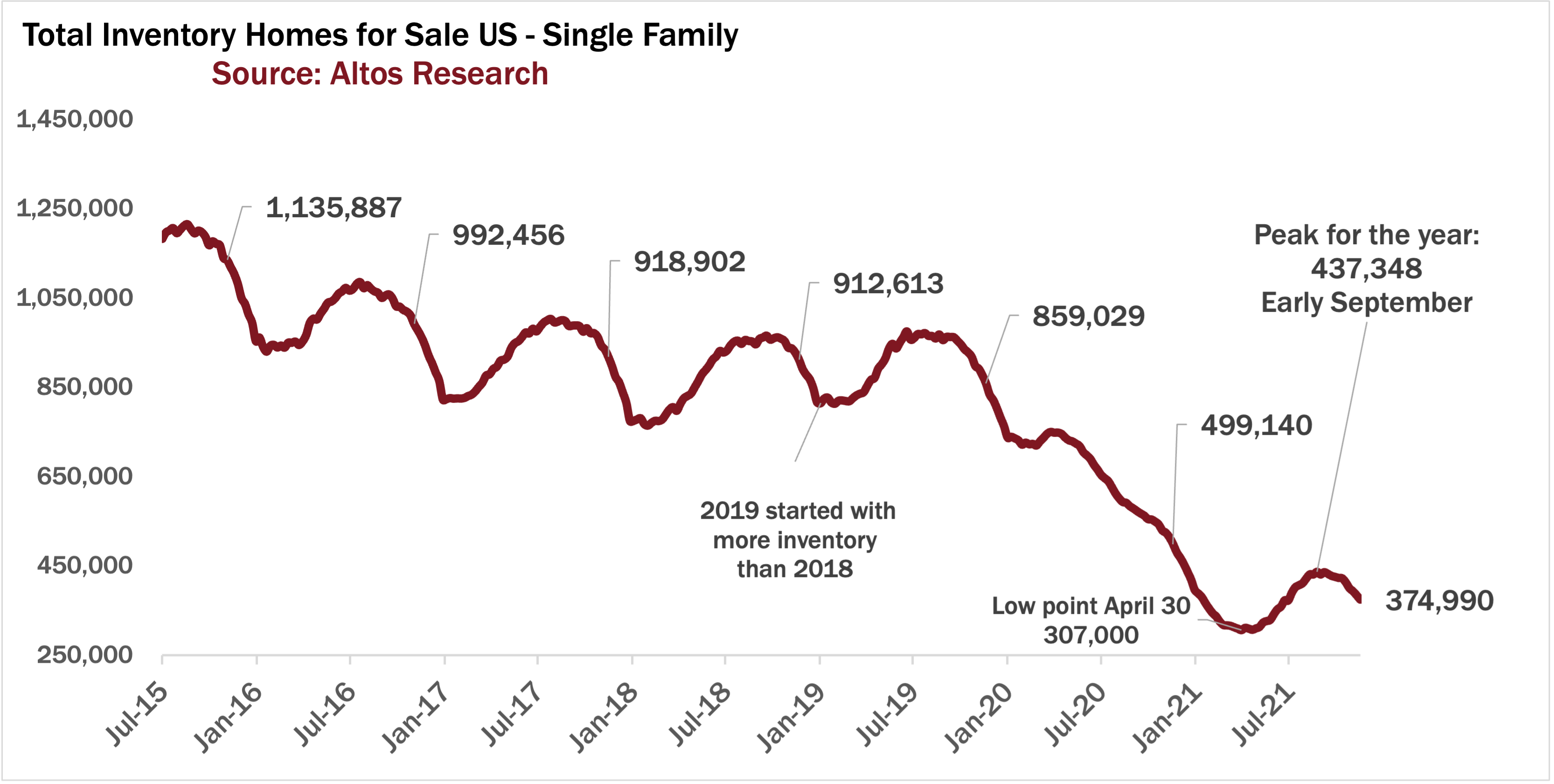 Based on the current trends, and the fact that essentially none of the properties coming out of the pandemic mortgage forbearance process are being sold, we still expect to end the year at right around 300,000 single family homes on the market. This is what looks like a new normal of unseasonality, there are no signs anywhere of an unusual surge in inventory. No signs of any return to the old normal levels. Basically, if you already own, it's a really good time to keep owning.
As a result we'll start 2022 with less available inventory than we started this year. The frenzy of demand is less than last year too, but all signs continue to point to low supply and robust demand, rising prices in the next year.
We can see the continued demand in our immediate sales tracker. About 20,000 homes that got listed this week went into contract essentially immediately. That's a number that's staying remarkably elevated. You can see the overall volume trend down each week of course, and that will continue until the new year before it rises again, but as a percentage of the available inventory, those fast offers, buyers gobbling up the best available homes, continues unabated.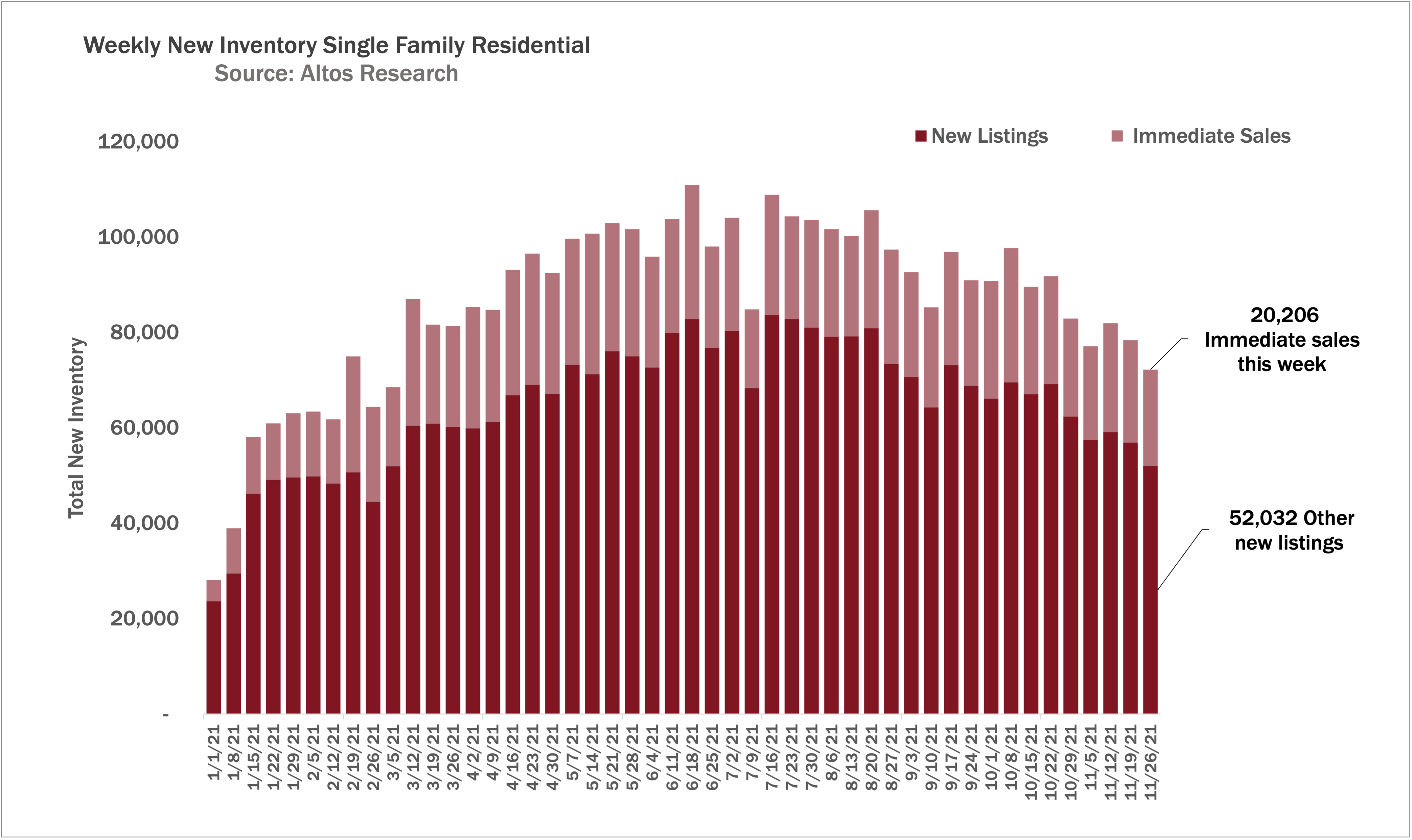 As a result, median home price in the US this week for single family homes is $379,900. That's ticking down each week as is normal for this time of year. Home prices are off just 5% from the summer peak, which is actually less than normal seasonality because the continued unseasonably strong demand and critically short supply.
So the question is, have we moved into a less-seasonal pattern. Prices don't fall as much at the end of each year. It's just so much easier to buy right now than "normal" times. The price of the new listings also ticked down as expected to $349,000. Next week this will drop again as the Thanksgiving weekend activity is fully baked in.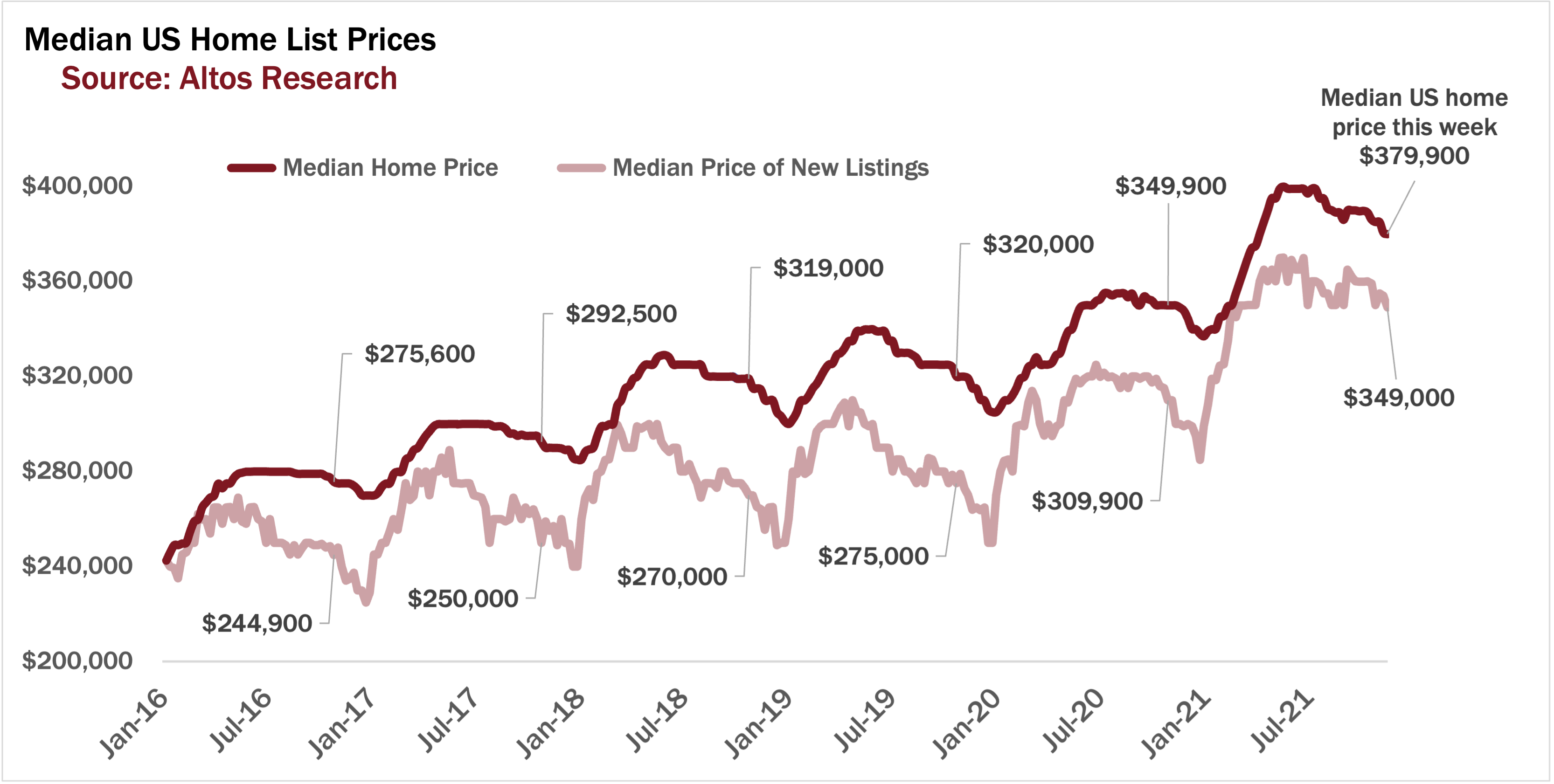 In the light colored line you can see that even last year the new prices dip over the holidays. So seasonality exists. It'll be fun to see where the low point of this leading indicator lands and how quickly it rises in January. The steep slope of the rise of the price of the new listings - again the light colored line here, each January is a very clear signal of where the year's market is going to go.
ou can see January of this year had all those eager immediate buyers drive up the new listings prices steeply. That showed us how strong demand was going to be all the way into mid year. That's why this is such a powerful leading indicator.
Finally this week let's keep our eyes on price reductions. The percent of homes on the market that have taken a price cut recently. Price reductions nationally normally is right about a third. 30-35% of the homes on the market have cut their prices. As the year progresses, reductions climb, you need to cut your price to move the house before the holidays.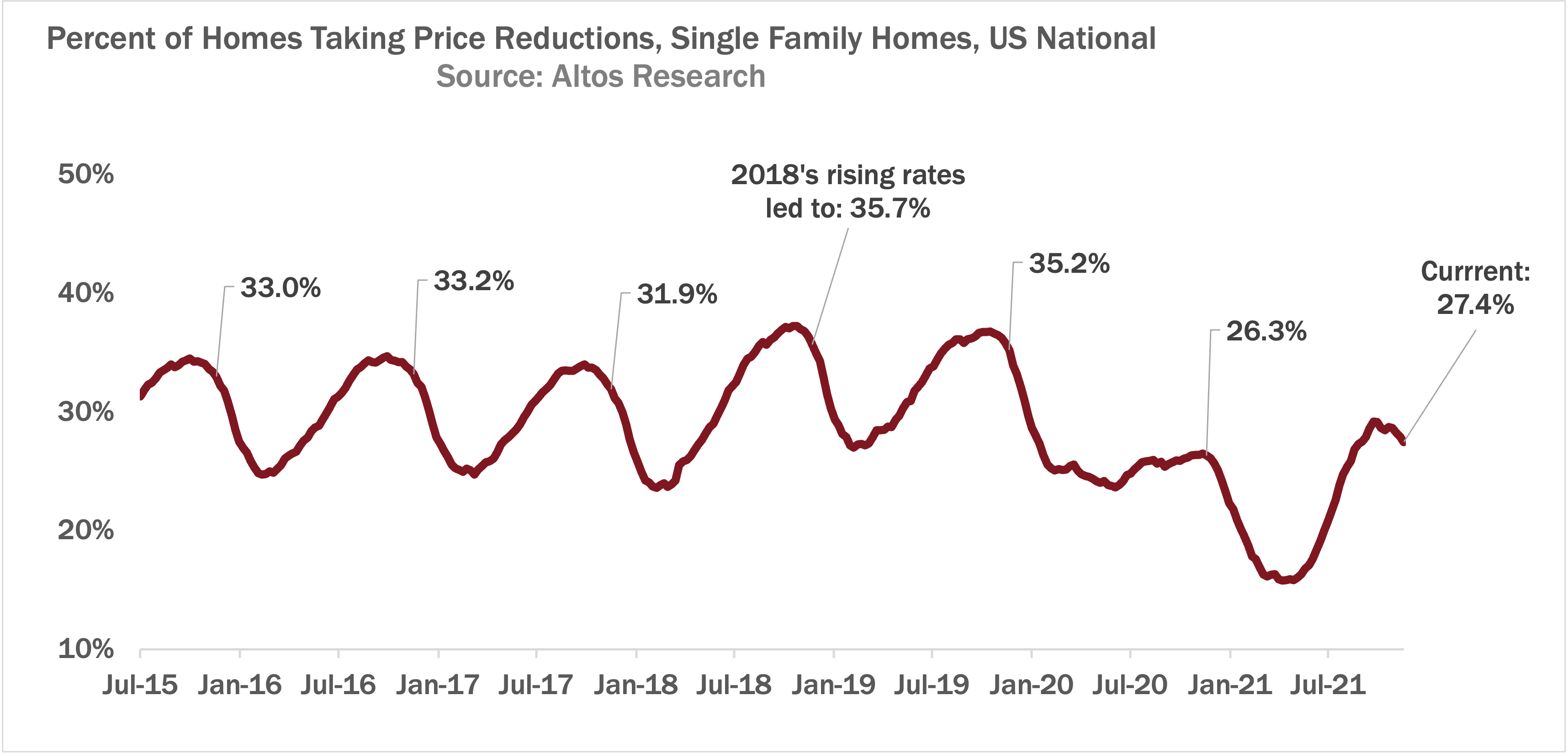 But once the holidays are upon us, there are fewer new listings, and more withdrawals - sellers will wait to try again after the new year, so the percentage with price reductions curves back down. So when I say that there is less seasonality than normal, this is one place you can see it.
On the one hand we're back in a normal seasonal cycle, price reductions have peaked and are falling. On the other hand price reductions peaked way below where they normally would. If houses sell over the holidays, then there's no need to cut your price. This shows us we'll start 2022 with price reductions in the low 20s which is yet another confirmation that demand is there for anyone who wants to sell into it.
This whole seasonal pattern is just shifted lower in the face of a new normal level of supply and demand.
OK - that's all the time we have for this week. Our final webinar of the year will be December 15th so keep an eye out for that. If you are a professional in this business, make sure you have your Altos data in your inbox every Monday. Go to AltosResearch.com right now and sign up. Join the thousands of real estate professionals who get to put the data in the hands of their clients every week.