Back to main Blog

Mike Simonsen
Mike Simonsen is the founder and president of real estate analytics firm Altos Research, which has provided national and local real estate data to financial institutions, real estate professionals, and investors across the country for more than 15 years. An expert trendspotter, Mike uses Altos data to identify market shifts months before they hit the headlines.
In this week's US national real estate market video, we take a look at a novel metric in the housing market: Price Increases. Specifically, the percentage of homes on the market that have had an asking price increase in the last 90 days while they've been on the market.
If you've been following the Altos data, you know that the market has been on fire since early April. The first week of September continues that trend. The median single family home price in the country ticked up this week to just over $354,000.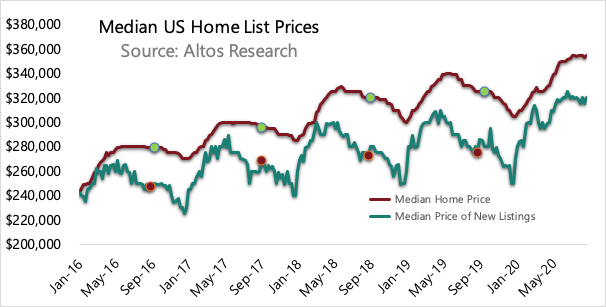 The median price of this week's newly listed cohort is at $320,000 and shows that third quarter demand is not backing off at all. You'll also know that we have ridiculously low inventory. More buyers than suppliers again this week and our total inventory dropped to 584,000 single family homes on the market.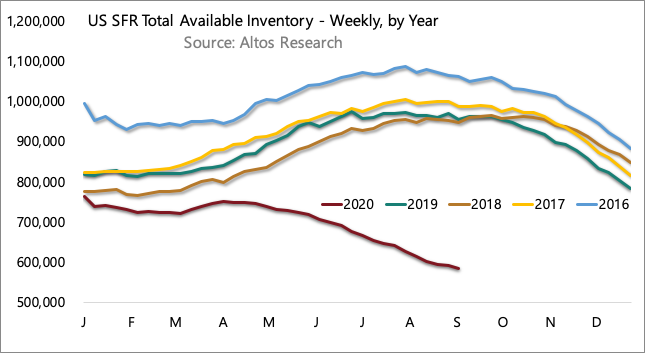 In this week's video we look at how sellers are capitalizing on this crazy market dynamic. Perhaps unsurprisingly, they're raising prices. It turns out you can measure investor activity by tracking the percentage of properties on the market with price increases. Properties get increases when an investor buys, remodels and relists the house for sale again quickly. in recent years, the iBuyer firms like Opendoor and Zillow have put enormous capital into this trade - and you can really see it in the data now.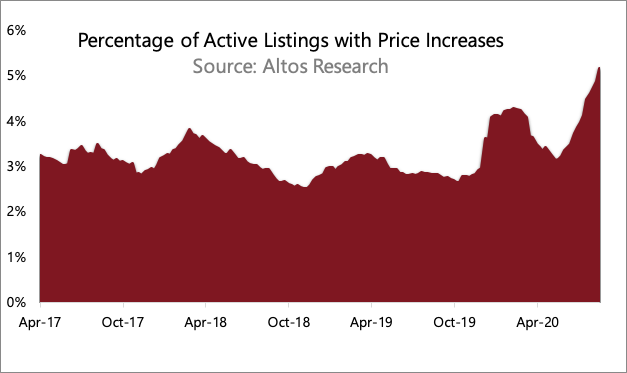 The market has hit 5% increases for the first time since before the bubble burst in 2007. Look at how quickly it skyrocketed since May. Some other notable characteristics of this chart: The iBuyers pulled out very quickly in March as the pandemic lockdown began. Price increases plummeted. 2020 was already on its way to being a high demand year, with rates so low, the institutional players too March and April off, and then kicked back in mid-May. Also note the long slide starting March of 2018. That was the stretch where mortgage rates climbed above their decade-long average of 4% to over 5%. As that happens, demand falls off and investors ability to raise prices weakens immediately. Going to be fascinating to watch how sensitive companies like Zillow become to variations in mortgage rates over the next few years.
If you'd like to discuss how your local market is faring, click here to schedule a short intro call with our team.