Each week Altos Research tracks every home for sale in the country, all the pricing, supply and demand, and all the changes in that data and we make it available to you before you see it in the traditional channels. We'll look at inventory, prices, and the latest on the market in this week's Altos Research real estate market update.
Demand for homes is staying remarkably strong as we approach Thanksgiving. That's keeping prices elevated with great opportunities for sellers. It's Monday November 15, 2021 and here's what the data tells us right now.
Active Inventory declined by 1.7% this week to 393,000 single family homes unsold on the market. Next couple weeks as we enjoy Thanksgiving and move into December, inventory will continue to drop.
The lowest point of the crazy 2021 year was April 30 with only 307,000 homes on the market. April and May are approaching the peak of the home buying season and this year as homes were gobbled up so quickly the active inventory just never grew anywhere near the normal levels of selection for buyers. Peak inventory for the year was at 437,000 single family homes on the market. As demand holds up into late in the year, inventory is currently 10% below that level. Very normal pattern.
As we're keeping watch on interest rates and what impact rising rates may have on supply and demand, I try to point out 2018. That was the last time we had substantially rising interest rates. November 2018 we were just about to peak the rising rates before they started a three year decline.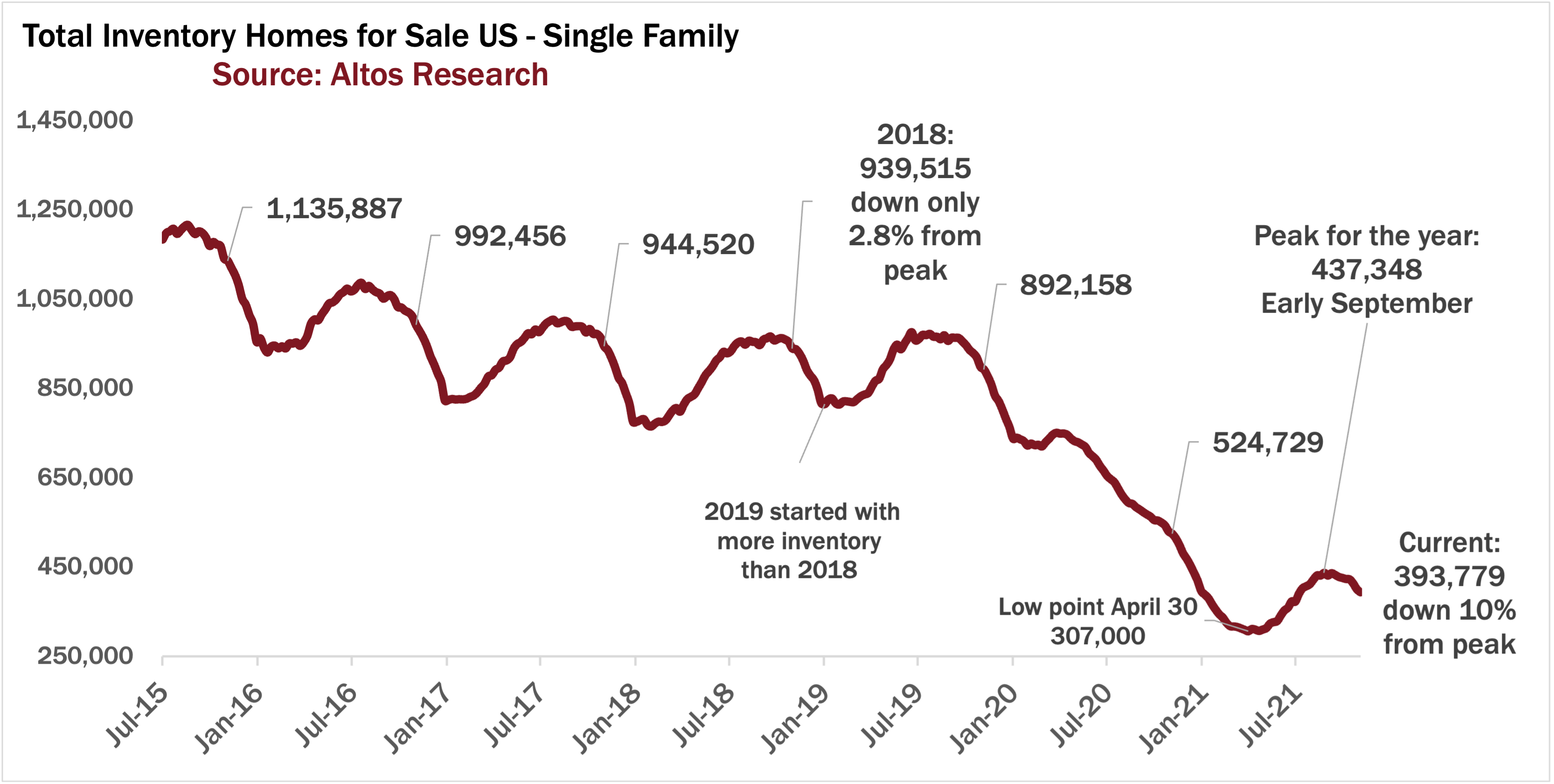 And you can see how available inventory responded to the rising interest rates. In November of that year available inventory was only 2.8% off the peak. Inventory stayed elevated well into November. It wasn't a catastrophic change. The market didn't shut down, but if you were selling in the fall of 2018, you definitely could feel the change.
I remember sellers worried it was going to get worse. And that's the pattern to watch in 2022 if we actually see mortgage rates rise. But rising rates, should the occur, won't be felt for several months. So when we take the current inventory and project normal seasonal declines, we can see we'll end the year probably just under 300,000 homes on the market.
That'll be lower than the record low of April 30th. And it means 2022 starts the year with high demand and incredibly restricted supply. As continued from last week, we still see almost no measurable impact of homes being listed for sale as a result of the end of the pandemic mortgage forbearance process. Certainly not enough to make a change in the projected curve for the end of the year.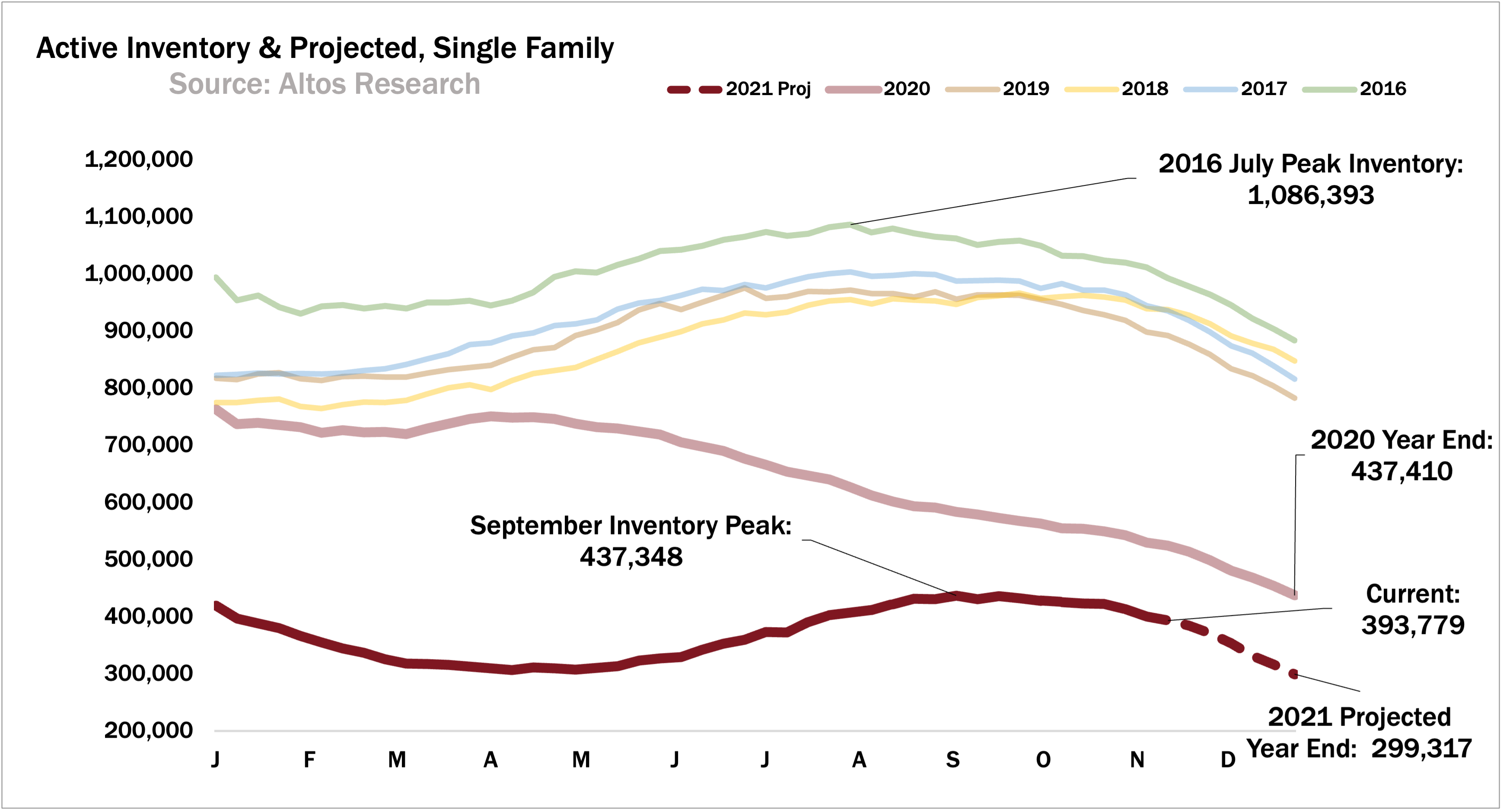 The dashed line here shows what can be expected each week through the end of the year. Immediate sales this week remained robust as buyers and sellers are getting the last few deals done before the holidays. With almost 23,000 immediate sales this week, the phenomenon of homes going into contract within hours or just days of listing shows no signs of abating.
I saw a research report by a group called the Broker Resource Network. They call this phenomenon "Zero Days on Market" and describe it as a competitive threat that emerged after policy changes by the National Association of Realtors which went into effect May 1 of 2020. Just coincidentally this policy change happened right when demand skyrocketed for homes during the pandemic. It allowed many more transactions to take place before the home was publicly listed for sale, then they get listed and marked sold immediately.
It's unclear to me how much of our immediate sales phenomenon is driven by the policy and how much by shear demand, but it seems likely to continue until the time that buyer demand finally slows back to normal. That transition is not yet in the data. Maybe mid-next year before the next opportunity. The continuing theme of tight supply and unabated demand means prices are still plenty robust.
Median price of a single family home in the US remained unchanged this week at $385,000. Prices will adjust down over the next couple months. But there are no signs of rapid decline. Keeping an eye on the leading indicator, the price of the newly listed homes, that's the light colored line here, that actually ticked up this week to $354,900. You can see the price plateau for the new listings continues at least for one more week.
New listings price will very likely dip for Thanksgiving and Christmas before resuming their normal seasonal climb in late January.
Finally this week lets look at the pattern of annual home price gains. With the median home price currently at $385,000, that's 10% higher than last year at this time. Remember that the headline numbers you'll see reporting on transactions will still be higher than this as they're still reporting on transactions that happened months ago.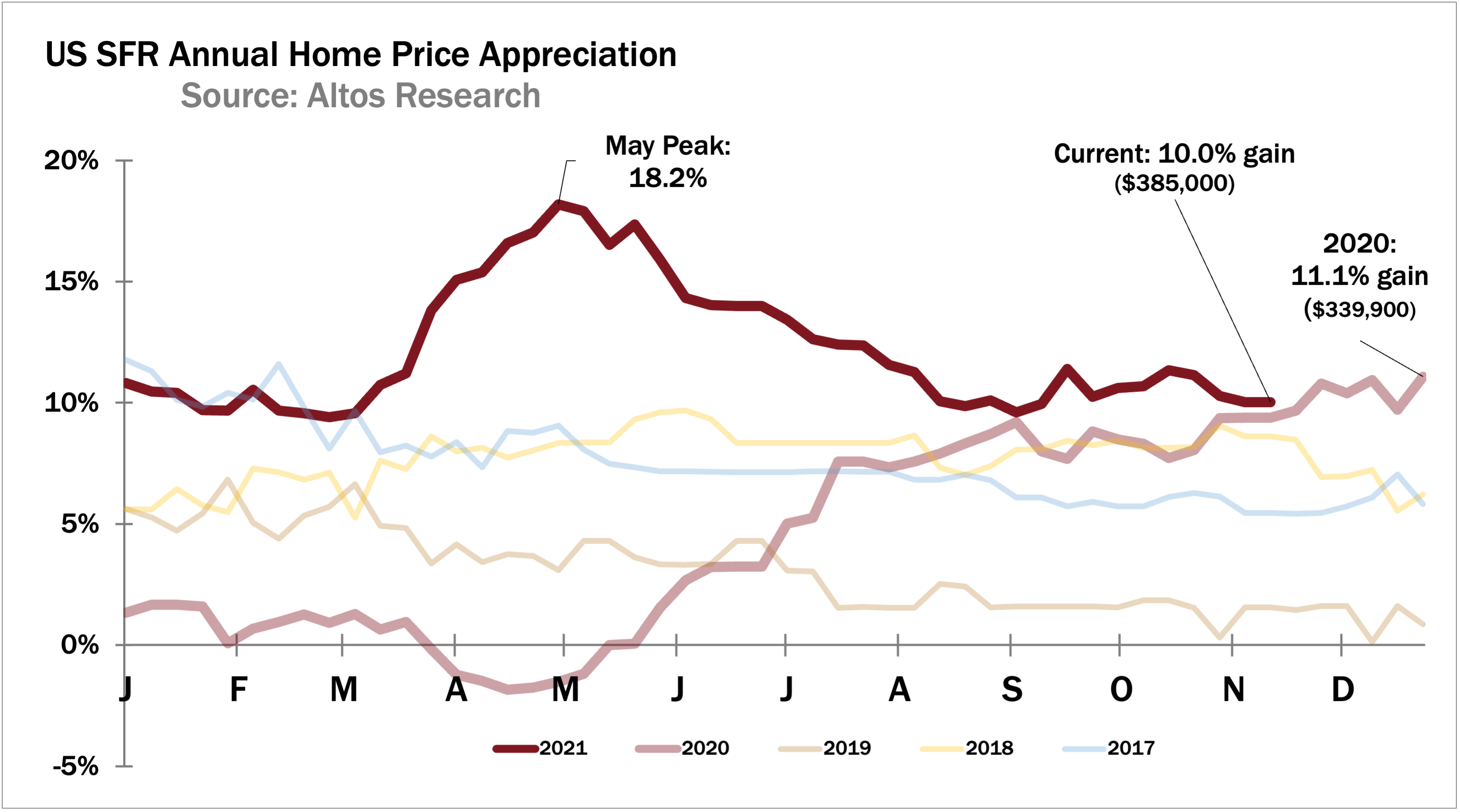 You can see how the dark line is aiming to finish the year in the 10% to maybe 12% price gain range. Because the beginning of this year was so strong, it's going to be difficult for price gains to repeat such big leaps over the year next year.
That's all the time we have for today. Home buyer demand is remaining plenty robust as we approach the holidays as a result home prices are not slowing at all.
If you're a realtor, and you're working with buyers and sellers right now, or you want to help them to take action in the new year. if you're dealing with clients who need to understand the conflicting headlines about the economy and the real estate market, they need you to get them the data. To do that, go to AltosResearch.com and book time with our team. OK - more next week.