Back to main Blog

Mike Simonsen
Mike Simonsen is the founder and president of real estate analytics firm Altos Research, which has provided national and local real estate data to financial institutions, real estate professionals, and investors across the country for more than 15 years. An expert trendspotter, Mike uses Altos data to identify market shifts months before they hit the headlines.
As the rate of home sales slows, the available inventory of homes for sale is still climbing quickly through July. As we roll into the second half of the year, we're starting to have some visibility into 2023. And we'll explore that today.

Every week Altos Research tracks every home for sale in the country. We analyze all the pricing, supply and demand, and all the changes in that data and we make it available to you before you see it in the traditional channels. If you aren't using Altos market reports with your clients, your buyers and sellers, now might be the time to step up.
Go to AltosResearch.com and book a free consult with our team. Because everyone is worried about what's happening right now. They need you to help them see clearly.
I'm Mike Simonsen, I'm the CEO of Altos Research. Here's what we're looking at for the week of July 18 2022
Housing Inventory
There are now 509,000 single family homes available unsold on the market across the US. That's the most we've had in almost 2 years, and 31% more than last year at this time. The 3.6% weekly inventory increase is substantial, but may be showing some signs of decelerating. A month ago, inventory was climbing by 6-7-8% per week. Now we're in the 4% range. I expect at least a few more weeks of fairly hefty increase in inventory this summer still.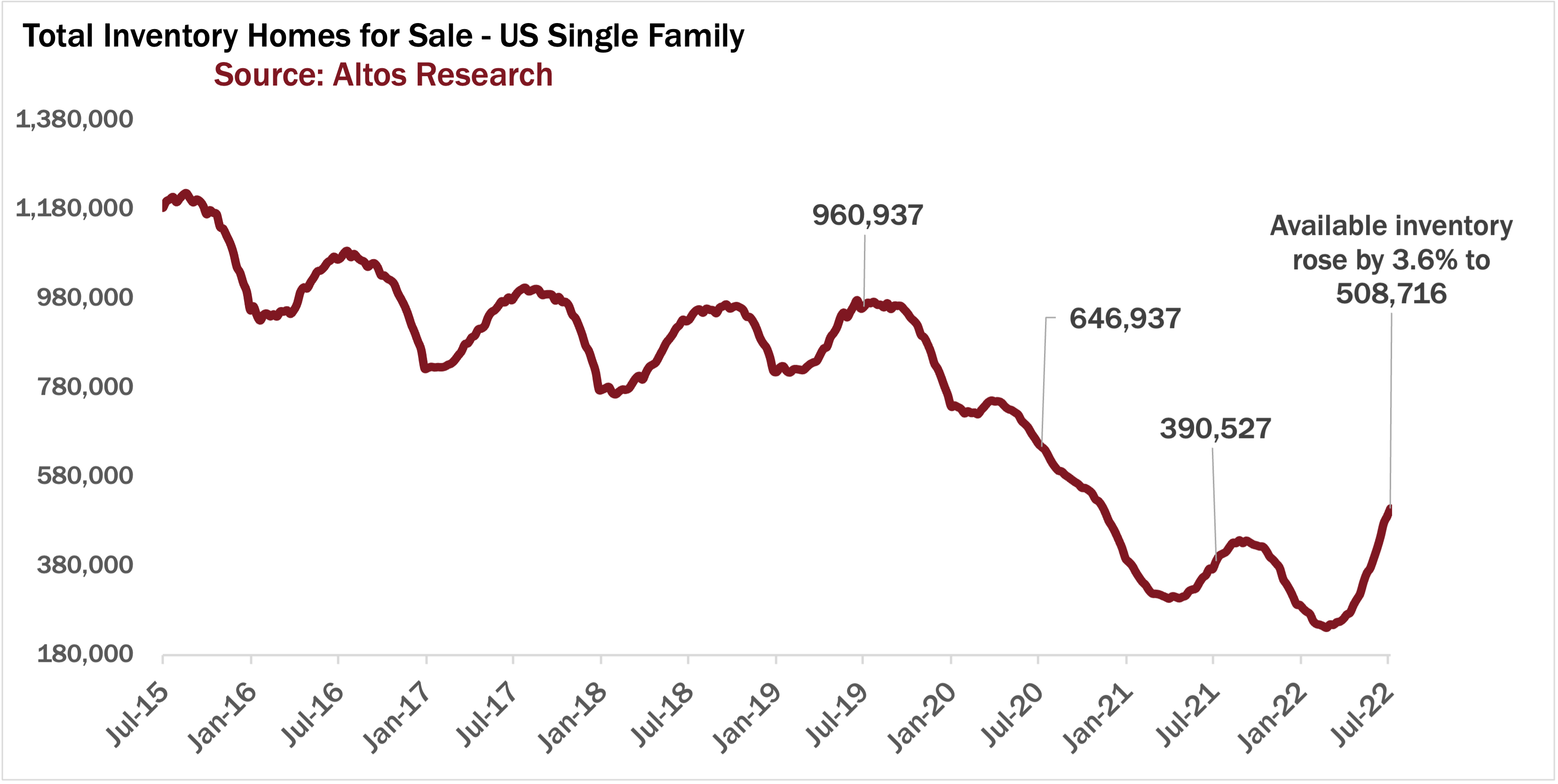 A wild card in forecasting inventory increases for the rest of the year is new construction in places like Texas where they've been building huge numbers of new homes, and those homes were delayed earlier in the year due to supply chain issues. In the Altos data if a home is future construction, not actually available, and we don't include it in the active inventory counts. Now as those homes get closer to completion, they move from pre-built into active inventory. That'll actually accelerate our inventory increase in the markets that are changing the most quickly. Funny how that works.
We expect that the summer will peak with maybe 625,000 homes on the market and end the year with around 540,000. You can see the dotted line curve here as the forecast for the rest of 2022.
One aspect we discussed last week on the Altos webinar is how our inventory right now may be pulling supply forward from the end of the year. You can imagine that sellers who were thinking of selling at some point this year are hurrying to list now - before they perceive the market will get even slower. If that is indeed happening, that would put a cap on inventory growth later in the year.

I should note that when we talk about inventory forecasts for this year and next, that's really looking at the housing data we have now and what we know about seasonal patterns in real estate. What's not visible in the data are all the exogenous variables. What happens in mortgage rates spike up from here? Or what happens if the economy tanks from here? We can speculate on these things, but I don't have any ability to predict interest rates or economic growth.
So assuming things don't go nuts, this a view of where inventory should end 2022. If we see the dotted line keep climbing in October that will indeed be a new signal and something to keep our eyes on.
But assuming we have some normal seasonality, 2023 will start with still fewer available homes than we started even 2020.
It's not that much. Supply is it's best in a few years, which is good for buyers, but it's likely to be not a lot. You might consider this when working with buyers right now. Many buyers are understandably super afraid. If they wait, they'll be getting more selection in the next couple months, but it's not likely to be a huge surge unless some other force rocks the market.
Real Estate Prices
Prices meanwhile are also past their seasonal peak which is normal. The median price of single family homes in the US is $451,000. That actually ticked up a hair from last week.

The median price of the newly listed cohort dropped 1% from last week to just under $401,000. That happens this time of year and it's probably bigger than normal drops now. I mentioned that sellers may be pulling supply forward, worried that conditions will get worse later in the year. If that's your state of mind, you're also likely to discount your asking price just a little to be ahead of the competition right now.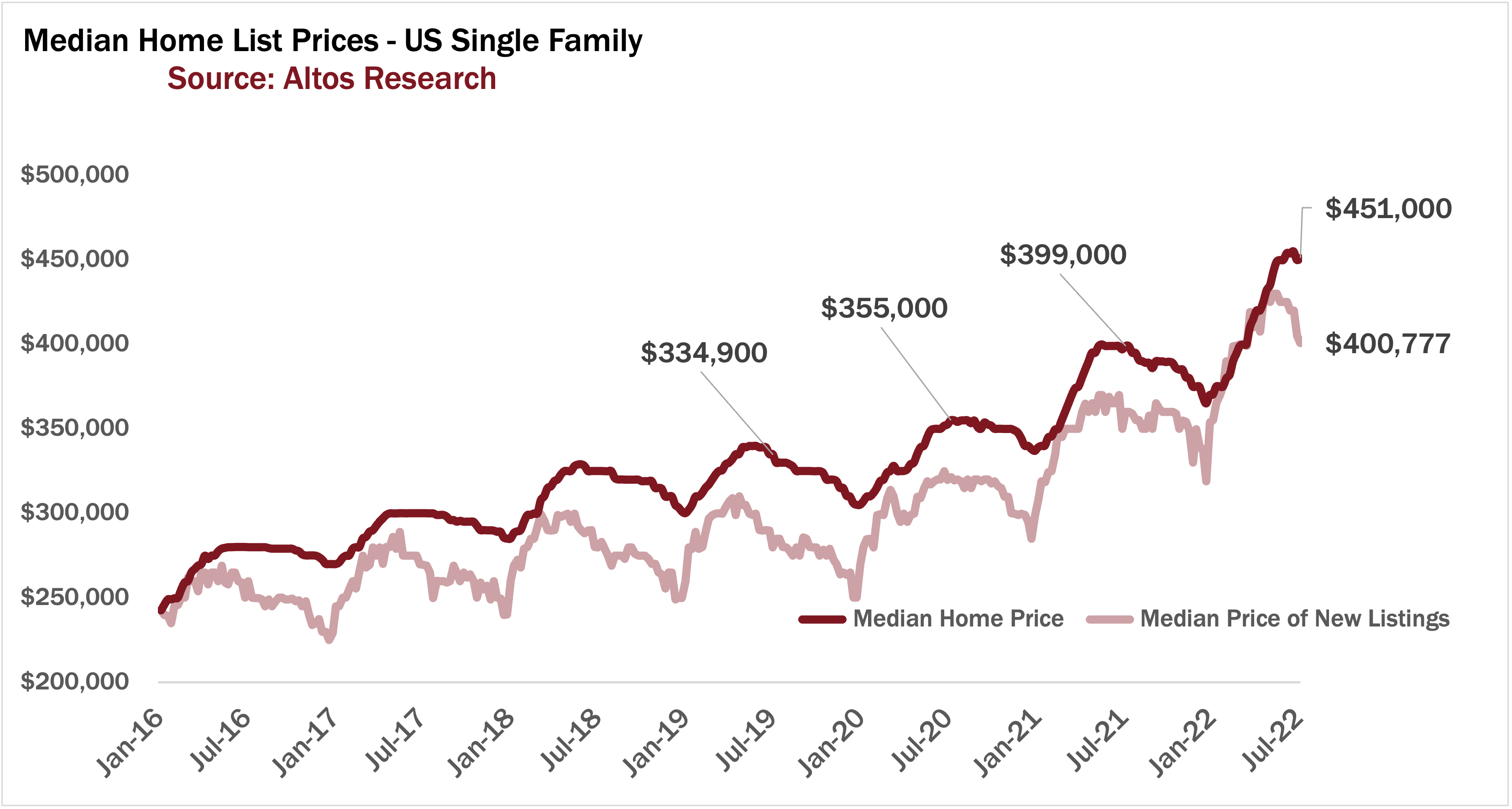 And that shows up in the light red price of the new listings. Notice in the second half of each year there is always that separation between the new listings and the whole market. The recent drops in new listings price are notable, but not yet indicative of big pricing weakness. Definitely something to keep our eyes on.
Price Reductions
Price reductions are climbing quickly as demand weakens. This is now no secret. I'd like to give some context around price reductions. The country is in what we'd call the normal range of price reductions. This week a third of the homes on the market in the US have had a price cut. Meaning they were originally listed higher, had no offers, so they had to drop the price to find buyers. At Altos, we track price reductions as a percent of all the homes on the market. It's totally normal for a third of homes to cut their price at some point before they sell. You might see other sources track price reductions that happen in a given week.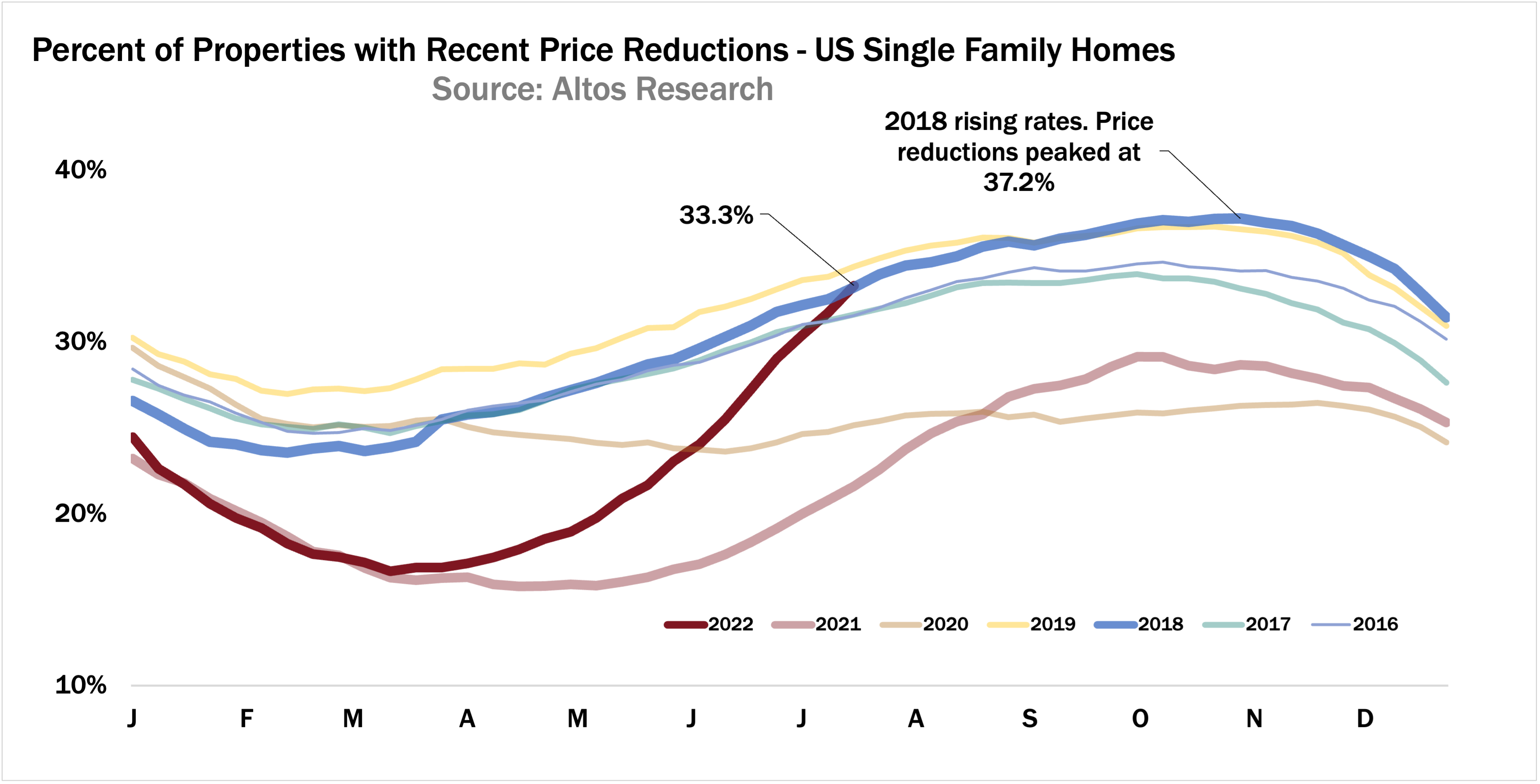 While the total quantity of price reductions is totally normal now, it was record few just a few months ago. And the slope of this dark red line curve is very steep. This is how you see in the Altos data how quickly each week sellers are cutting. Right now it's a lot as the market adjusts. This slope in fact may be unprecedented. This really shows how abrupt the change is happening.

The summer of 2019 had the most price reductions in recent years. That's the yellow line here. That was because interest rates rose through 2018 and the buyers slowed. Price reductions climbed all the way through 2018. We've been talking about this all year. By next week it looks like we'll surpass the 2019 levels. We'll have more homes on the market now with price reductions than any time in recent years.
What we're looking for after then is for the slope of the price reductions to start curving more flat. In the fall, new listings price at a discount first so they don't have to cut later. So fewer price cuts in the fall. But that slope hasn't really rounded the corner yet, which implies there's still a lot of adjustment that sellers need to make. I expect that we'll be at 40% with price reductions before the end of the summer. That's another reason why we see likely no home price appreciation for 2023.
Immediate Real Estate Sales
Immediate sales are still happening however, for those homes price well. I saw on Twitter, Ryan Lundquist an appraiser in Sacramento, who goes by SacAppraiser mentioned that even in Sacramento one of the super hot pandemic markets, where price reductions are now skyrocketing as the brakes have been hit, even there, about 40% of the sales have multiple offers. So that's what we see here.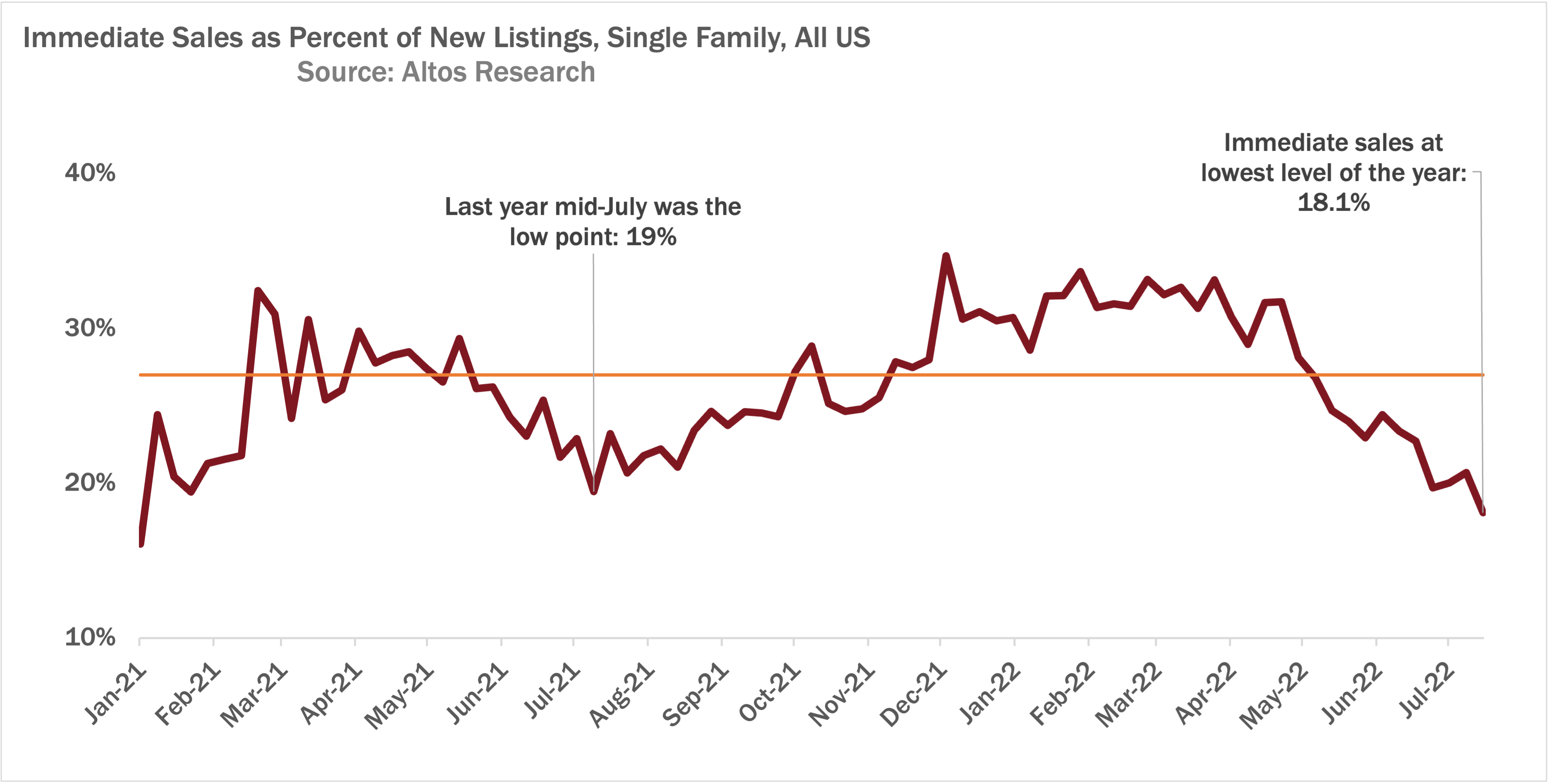 Around the country, we have still 18% of the new listings are going into contract immediately after listing. That's the fewest since we've been tracking this way, but it's still more than I keep expecting. That's going to keep steadily decreasing. Last summer the percentage actually increased later in the year, as the market regained steam. That certainly took me by surprise then.

We can see these opportunities for buyers finally opening. We can see that demand is still there for the homes that are priced properly. It sure looks like while inventory is climbing now that we're not going to have a lot of selection next spring. So your buyers should plan accordingly. If you need to have these conversations with clients, go to AltosResearch.com and sign up now so you can have your data in the hands of your potential sellers and buyers today. This market is moving so quickly, they need you to be their voice of expertise, right now.

That's all the data we have time for today. More next week.