NAR's Pending Home Sales Index for March moved higher, counter-balancing the discouraging Case-Shiller numbers reported yesterday for February and reflecting our early-year observations (see: "Whew! Seasonal uptick in housing prices" from February 4 and "Is Spring Springing?" from March 4).
Shadow inventory, defaults, demand, and economic growth remain huge challenges over the next few years. But so far this spring, the data indicates we're heading more for stability more than a big double-dip.
Expanding on my quick thoughts from yesterday's Case-Shiller report, here are five (5) reasons to be optimistic this Spring:
1. Sellers are optimistic. The price of new listings moved higher starting in February with aggregate market ask prices following soon thereafter: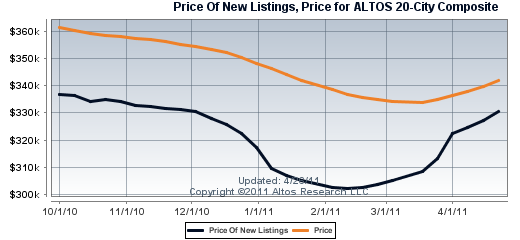 Active market prices are one of most vital leading indicators to future transaction prices. When aggregate asking prices move higher, transaction prices eventually catch up. You'll just have to wait until the June or July reports from S&P to see price trends change in the Case-Shiller.
2. Year-over-year active market prices in TX, FL, AZ, and CA have all inflected this Spring: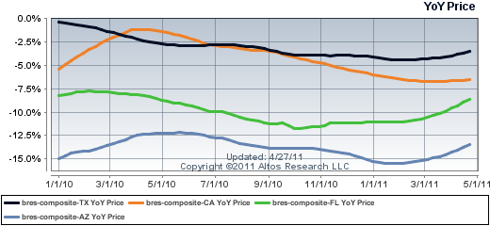 While they're still in negative territory, less negative is better than more negative.
3. Active market inventory is moving lower: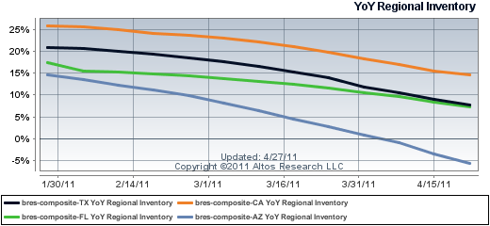 Housing supply matters – CA prices are the least inflective so far (where year-over-year inventory is the highest comparatively) and market prices have been resilient to increasing supply this year.
4. Days-on-Market is moving lower: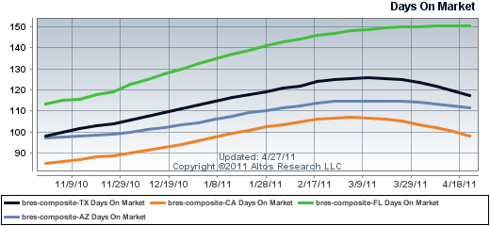 5. Housing starts were higher in March.
Maybe it ain't all that bad out there this Spring …